With an increase in innovation, inventions, and access to production, the world of foreign filing is quickly growing smaller and moving faster. This is evident from the year over year growth of patent and trademark application filings.
In 2018, innovators across the globe filed 3.3 million patent applications, up 5.2% for a ninth straight yearly increase, according to WIPO's annual World Intellectual Property Indicators (WIPI) report.  In addition, within the last 10 years, 2008 – 2018, global patent filings also showed continued overall growth, 72.3% (1.9million to 3.3 million), trademarks increased 159.9% (5.5 million to 14.3 million), and industrial designs are up 61.1% (814,000 to 1.3 million).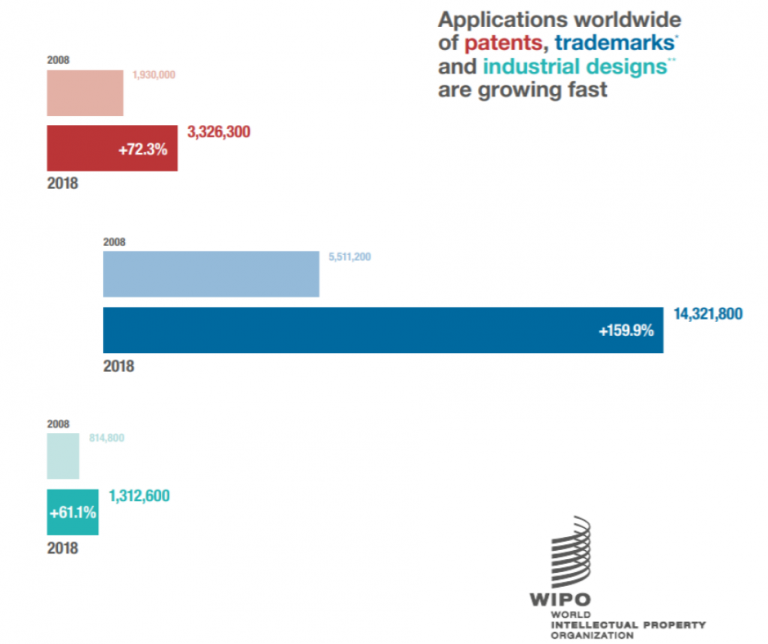 Although 2020 is still uncertain due to COVID-19 and the impact it's having on the global economy, innovators are still filing patents and trademarks, and IP professionals, firms, and official offices around the world are applying new efficiencies and updates to constantly improve the foreign filing process, everything from technology, automation, and communication to updated policies and health/environmental considerations. – We asked 14 top IP experts from around the world to find out what emerging trends we should expect this year.
14 Top IP Experts Share Their Thoughts on Emerging Trends
In 2020, expect to utilize new tools and technologies, such as blockchain registers, for the protection of trade secrets. For example, using blockchain as an IP registry, authors can store IP as an encrypted document, representing a digital certificate of authenticity. It ensures tamper-proof evidence of ownership, a chronological recording of transactions, and promotes transparency and decentralization. In addition, once the information has been registered on the blockchain, it can never be lost or changed, retaining the moral right with the author.
International IP laws have not yet adapted to provide clear protection for large sets of aggregated data (big data). These data sets are undeniably commercially valuable but are not good candidates for conventional patent or copyright protection.
Five years ago, most high-profile startups were some type of "app-based" business with no real operating plan – just a scheme to get subscribers and then sell the company to an existing player. Advancements in manufacturing technology and the rise of IoT networks has led to a resurgence of companies that are making "things" that are physical and actually interface with the world. This is a welcome change and will lead to more devices generating even more data.
2020 is going to bring upon the emergence of globalization in IP. One example of this is the new work-sharing arrangement between the United States Patent and Trademark Office (USPTO) and the Mexican Institute of Industrial Property (IMPI) that streamlines the process for obtaining a patent in Mexico based on a corresponding U.S. patent. More and more, we are seeing cooperation between the patent offices of different countries and regions. By bringing costs down and making the process more efficient, this encourages applicants to file more internationally and, ultimately, encourages more innovation.
We are seeing growing importance to Trade Secret protection as part of a company's IP portfolio, allowing an interaction between know-how or processes protected as such, as well as patents over products and systems. This sort of protection could be a response to the emerging (and alarming) trend on the granting of "groundless" patent compulsory licenses in some countries.
As technologies continue to improve and advance, we expect to see more artificial intelligence (AI) making its way into IP, everything from the automation of tasks and in-office actions to filings.
Smart lifecycle management of portfolios is gaining increasing importance as it enables portfolio owners to optimize each stage of the patent filing process to proactively facilitate patent protection and monetization, correctly utilize the tools and rely on the most appropriate metrics to manage and track the process, and leverage the most comprehensive track records to support decision-making in monetization. A clear and defined process allows portfolio owners not only to adapt more rapidly to market changes but also to create a feedback system to continuously tweak the efficiency of each step involved.
In 2020, we are going to see a more dedicated focus on filing patents that are of higher quality, as opposed to more lesser-quality patents.
Due to recent world events, people are devoting more attention to science, health, innovative technology, and communication-based technologies. As brands, products and technologies related to health and bio/medical treatments further form IP innovation, so will IP rights of general technology like 5G, AI, digital economies, smart cities and more in order to adapt to new and growing needs.
As the number of patent applications continues to increase, we are going to see new and innovative ways to ensure efficiency and quality control throughout the filing process. Furthermore, big data is making its way into IP, and as such, in order to maintain quality assurance, we are going to see an increased reliance on technology with particular focus on innovation within sustainability and machine learning.
In pharma/biotech, we are seeing a thinning of boundaries when it comes to conflict of interest – where previously there used to be a clear demarcation between the innovators and the generics. The reason for this is that innovators continue to focus solely on core R&D, drying up of pipelines, expiration of patents and thinning margins along with the enormous incubation period of lab-to-market for blockbusters. This is forcing innovators to look at other avenues of sustenance, such as biosimilars and even traditional generics for some.
Traditional generic players in response have started thinking big and are looking to make their mark on the global platform. As a lot of innovator molecules are already off-patent, and with the future of blockbuster drugs not looking so exciting, generic players themselves see this as an opportunity to look at R&D for their own survival.
In this evolution of mindsets and businesses, the lines are not very clear any-more, and a direct impact is seen on IP. From a patent practitioner's perspective, it is no longer forthright and unambiguous on which subject matter belongs to which side of the table. There is, therefore, a need for constant vigil not only with regards to the applicant that is responsible for the IP but also the subject matter involved, which could well be away from the conventional route that an applicant would have followed in the past.
Without due care, it is a disaster waiting to happen, and the situation could escalate rather quickly. It would not be unforeseen for an attorney to land up in a conflicting situation where for example he or she ends up representing a conventional innovator for a biosimilar of an original product in-turn owned by another of his/her' innovator client. Thus, as the industry evolves, there is a continuous need for IP practices and practitioner to adopt newer, smarter strategies in order to deal with such situations, because the ones who don't will be left behind by the ones that find a way to strike the right balance between loyalty and evolution.
There is more and more IP being generated to address climate change and pollution. It is encouraging to see, and it gives me hope for the future.
Automation is the key to increasing efficiency and quality. If legal experts are not embracing those technological advances to improve in-office actions and legal tasks, then we are falling behind.
There is a growing interest in reducing costs for IP filings and related in office actions. More and more clients including some of the world's biggest companies are negotiating fixed cost arrangements and discounts to usual fees and, in some cases, abandoning entire portfolio's in an effort to reduce costs.
More pressure on cost control when filing patents and trademarks into a growing number of regions. In regions, for example, like India and China where the work is done through the local law firms and not through government offices like the USPTO, patent and trademark filers tend to want to reduce cost by receiving the documents without any review and comments and only ask for comments when desired. In addition, there are more requests for the cost to complete each project such as filing a response, where associates in other parts of the world assume that it will be handled by the other associate in a cost-effective manner.
The PCT Network
 is the world's largest and fastest-growing network of foreign filers. Working with a PCT Network member firm grants you unparalleled access to the greatest resources and expertise in the world through our international intellectual property community, all under one roof. Did you know The PCT Network offers a complete solution for foreign filing? Let's discuss how The PCT Network can improve your portfolio of foreign filings. 
Schedule a call with us
.